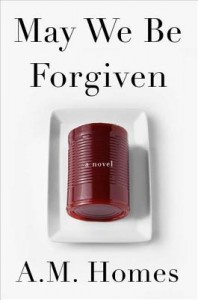 "You grow up thinking your family is normal enough, and then, all of a sudden, something happens and it's so not normal, and you have no idea how it got that way, and there's really nowhere to go from here—it will never be anywhere near normal again."
This phrase, delivered by Nate, the teenage nephew of the novel's protagonist, is in many ways the heart of A.M. Homes's most recent novel, May We Be Forgiven.
What we come to learn, however, is that a new normal is possible. Its newness isn't constructed from the fresh hope of youth, but rather the tenuous balance of middle age. It's a negotiation. It's a continuum. It's an open-ended question. (And, don't tell Nate, but it was never normal to begin with.)
Without spoiling too much of the plot, May We Be Forgiven is the story of a family rocked by violence, loss, and change. When Harry Silver's brother, George, is arrested, Harry steps in to care for George's children, tend to his home, and manage his life—seemingly at the expense of his own.
Homes bookends her novel between two Thanksgiving dinners, one year apart, both held in George's luxurious home. It is an apt metaphor for this feast of a novel—each new plot development richly satisfying, and the sum total overwhelming to the point of near excess. It tackles all of the big, expected themes: regret, redemption, love, loss. And as the title suggests, the novel does indeed meditate on forgiveness, ultimately asking an unanswerable question: How much does one have to do, and how far does one have to go, in order to attain forgiveness? Or, perhaps more troubling: In the end, can forgiveness ever truly be attained?
At the crux of this issue is Harry's relationship with two very complicated men: his brother, George, and Richard Nixon. A dedicated, near devout Nixon scholar, Harry has spent his life in pursuit of Nixon's truth, regardless of what it might be. For Harry, the disgraced former President is not so much a god as a guide—a compass leading to true north. Pouring through Nixon's original manuscripts, Harry discovers handwritten stories; fictional tales that he believes offer further insight into the complexity of the man behind the mystery. Here is not the calculating politician, but the earnest hardworking "fella" writing about "a man who wants something but doesn't quite know how to get it." Although never explicitly stated, Homes seems to imply that Harry's obsession with Nixon may very well be an obsession with understanding his own conflicting desires.
Harry's relationship with his brother is similarly complex: "Geo, he liked to be called, like that was something cool, something scientific, mathematical, analytical. Geode, I called him—like sedimentary rock," Harry muses. On the surface, George is a singularly unlikable character; a man made wealthy by producing reality television for the lowest common denominator, a self-anointed ringmaster who lies, cheats, attacks, and ignores with ease. George himself is utterly unredeemable, but the life that surrounds him—the beautiful home and family, the loyal dog, the shelf of Emmys, the closet full of designer suits—is an altered, elevated reality that Harry finds himself slipping into like a surreal dream. When he finally breaks from George's established pattern, finding the courage to join Nate in a father/son rock climbing contest at his prep school's Field Day, it feels less like a purposeful rejection of George's path, and more like a moment of enlightened self-definition.
May We Be Forgiven is a staggering achievement for many reasons, but perhaps most of all because of Homes' ability to transform literary tropes into something completely fresh and unexpected. Suburban minutiae, infidelity, mid-life crises, and family drama are all written into service, and yet, we never once feel as if we've heard this one before. Every time Homes veers into familiar territory, she delivers a jolt that sends both the reader and the characters down a different path. She does not paint her story in black and white, but rather in layered shades of gray. Again and again, Harry is forced to negotiate nearly impossible scenarios and make the least terrible decision possible. As omniscient readers, would we have chosen differently? Perhaps. But would any other path have led to forgiveness? Rather than answer our questions, this is a novel that instead chooses to pose them.
Harry is, in his own words, "a grown man who has hardly grown." It is his growth that propels this novel, but it is our own that lingers long after the story ends.
---
Further LInks & Resources