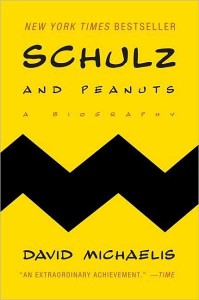 Happiness is a warm puppy–and also a good book.
Schulz and Peanuts (Harper Perennial) is the perfect biography for fiction-lovers. Author David Michaelis paces the book like an epic novel, starting in Charles Schulz's distant past and then retreating further, to the immigrant histories of his mother and father's families. Michaelis eventually catches up with himself and takes young Charles, known throughout his life as "Sparky," throughout his eventful career.
It's a quick 550 pages, and along with a wonderful story, the book provides some great anecdotes. An example: Snoopy got his name from Sparky's Norwegian mother, who told her son on her deathbed that the family should name its next dog "Snupi," a term of endearment in Norwegian. She didn't live to get another dog, but Peanuts' Snoopy would capture the hearts of millions.
Schulz drew on an impressive number of seemingly trivial details from his own life. One more: Spike, Sparky's real childhood dog, showed up as Snoopy's cousin. Spike was from Needles, California, where Sparky's father briefly moved the family in a short exile from Minnesota. But the number of emotional details, like Charlie Brown's loneliness and the general sense of ennui that pervades Peanuts, is also substantial, and the standard autobiography charge leveled at novelists was often leveled at Schulz.
In fact, in his own way, Schulz was a novelist himself. He created a cohesive Peanuts world that, like J.K. Rowling's Harry Potter universe, follows its own perfectly consistent rules: the characters never grow older, they have an adult's awareness of themselves, they never get physically hurt, adults never play any substantial roles, animals can talk, fantasy lives are just as concrete as reality.
For almost half a century, Schulz spent every day in that universe as a consummate creator of characters. Those characters grew far more famous than Schulz himself; the comic was syndicated in countries around the globe, and a child in Scotland or Sweden or the Philippines who recognized Snoopy at first glance probably would not know Charles M. Schulz's name.
Michaelis' biography got mixed reviews when it was first published in 2007. The author never got to interview Schulz; he didn't even start the project until after Schulz's death in 2000. But Schulz's family granted the author full access to records and contacts, and the end of the book is crammed with citations from past media reports and first-person interviews of childhood friends, teachers, family members, collaborators, mentees and more. It is astonishingly complete, and readers feel like they know the man by the end of the book.
Some critics, however, suggest that Michaelis was unfair to Schulz. And Michaelis does have a thesis — namely, that Schulz suffered from paralyzing anxiety and insecurity all his life and never recovered from his mother's death — and he doesn't shy from pushing it forward throughout the entirety of the biography. When Schulz found unprecedented success, he wasn't just driven, he was desperately seeking approval; when he married his nurturing second wife, he was trying to create the unconditional love that his mother never could give.
Michaelis makes a good case for this agenda, however, and his thesis is borne out by a close look at the Peanuts strips themselves. Like any good critical writer, Michaelis always goes back to his primary-source material, finding exceptional examples of his points within Schulz's own work.
And the author leaves readers with a full (if slightly overblown) sense of Schulz's impact on the world, suggesting that everyone who did anything innovative with characters in their chosen art forms, from Bill Waterson to Matt Groening to Jerry Seinfeld, owes a debt to Schulz. Michaelis also leaves his readers in tears: the passages about Schulz's illness and death, as well as the last Peanuts strips, are heart-breaking and beautifully written.
Although he had no objection to aggressive merchandising of his characters, Schulz included a clause in his Peanuts contract that guaranteed no one would be allowed to take over the strip after his death. Snoopy, Charlie Brown, Lucy and the rest of the gang may never have any new adventures, but the Peanuts universe is still alive in Schulz's characters — and Michaelis' stellar book.
Further Resources
– Read an excerpt from Chapter One of Schulz and Peanuts.
– Peruse archived Peanuts strips at Comics.com.
– Preview the collectors' edition of Schulz's Happiness is a Warm Puppy.
– Hear Michaelis talk about Charles Schulz — and Schulz and Peanuts:
– Watch this 1984 interview with Schulz on the San Francisco local program People are Talking: