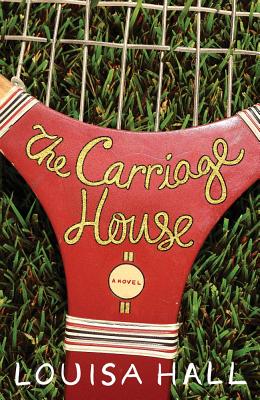 The Carriage House, Louisa Hall's debut novel, which has just been released by Scribner, brings to light the dilemma of writing from—and reading about—the perspective of characters who are privileged. Hall's plot is in part modeled on Jane Austen's Persuasion. Breacon, a suburban landscape of grass tennis courts and old money outside Philadelphia at the turn of the 21st century, evokes the clarity and grace of Austen's fictional settings. Hall offers Austen a literary curtsey by way of epigraphs from Persuasion that open the book's two sections. The second reads, "I must go uncertain of my fate…a word, a look, will be enough to decide whether I enter your father's house this evening, or never."
Austen and Hall pose similar questions: Is it too late to recover the singular love of youth once the plot of one's life is well underway? To what extent are children obligated to behave according to the values of their elders? The central romantic tensions of The Carriage House mirror those of Persuasion. Yet under modern social norms and cultural expectations, Hall casts a very different light on the traditional William Adair, his three sad, beautiful daughters, and William's lifelong love, Adelia Lively. In chapters from alternating points of view, they share the role of protagonist.
In Austen's world, William Adair might have been the patriarch of "a great family." An architect, he lives in a self-referential world, playing tennis and nursing golden memories of time spent in the now-ruined carriage house with Adelia, his childhood friend and true, if unfulfilled, love. Making this loss and longing more poignant is that due to an injudicious subdivision dispatched by William's father, the carriage house—Adair's ravaged symbol of the good life—sits on the property of his spiteful neighbor, Anita Schmidt, who plans to demolish it.
With the stakes of the book firmly in place, the inciting incident of the novel occurs: while watching his oldest daughter, Diana, play in a now-rare tennis match at their club, William suffers a stroke. In his weakened state, he insists that Adelia move to his house. She reluctantly agrees, and begins running the household from the Adair's guest room, eventually even extorting the help of William's daughters to save the carriage house.
Yet something galls William more than the indignity of the ruined carriage house, far more even than the fact that his ethereal wife Margaux, never fully present to him, now drifts through her beloved garden in a passive oblivion caused by early-onset Alzheimer's, and perhaps even more than the disability brought on by his stroke. It is that William and Margaux's three once-luminous daughters, a formerly "gleaming troupe" who "dazzled" all those who laid eyes on them, have returned home to trouble their father, each of whom he deems a "failure": Diana, a former tennis star, is now a knee-injured architecture school dropout who nurses deep regret over having once turned down a proposal of marriage from a man whom she found attractive in part because he didn't care that she was a champion; the self-absorbed Elizabeth, only slightly less talented, has flounced home from an acting stint in California, divorced, with two young daughters in tow; and daughter number three, Izzy, is the tennis prodigy who hasn't touched a racket in four years.
As the youngest, eighteen-year old Izzy is the most sensitive to Adelia's new post in her father's home, and much of the subsequent plot turns on the fallout to her.  We see that while William comes to know, in a vague way, that something happened to Izzy a few years back, "a subterranean thing… that he didn't understand," he will never know his youngest daughter's history as well as we, the readers, do.
We know them because in the absence of a firm narrator, à la Jane Austen, Hall's characters speak for themselves. Slipping between different points of view, Hall poignantly depicts the tensions children face in a family that values tradition over individual autonomy.
These traditions, of course, are largely dependent upon and made possible by wealth, which raises the question: can we truly sympathize with the struggles of wealthy, beautiful, and gifted people when many of their conflicts have come about, in no small part, due to their standing, influence, and means? Jane Austen's characters came from a privileged class, but she negotiated their actions within a precise moral framework where snobbery and social climbing were brought under scrutiny—and brought to justice. In The Carriage House, by virtue of the story's contemporary setting, both the moral framework and the relevance of the privileged Adair family are less certain. However, Hall's inclusion of Arthur Schmidt, Diana's love interest and key player in the plot's resolution, offers a much-needed outsider's perspective. Arthur's wry bemusement at the Adair version of success counterbalances the claustrophobic view that success has to look a certain way. William's neighbors see him as an eccentric crank, failing to understand his attachment to the carriage house. Although now overrun by mice, the structure built by William's grandfather stands as a reminder that the values of grace and workmanship transcend time and the strained ambition of making money for its own sake: "While other men of his generation dreamed of making their fortunes in industry, William's grandfather dreamed of perfect spaces, of rooms designed so that within their walls you became a better version of yourself, more capable and brave."
Ultimately, Hall isn't obligated to condemn the attitudes of insular privilege—literature isn't propaganda and we don't read for "lessons." She is simply obligated to tell a good story. And she does. The Carriage House is a beautifully written, subtly wrought story of redemption, revealing that the pull of tradition can be as strong as it was in Jane Austen's day. Whether the context is one of privilege or poverty, whether the stakes are defined in moral or psychological terms, the balance between individual well-being and the survival of traditional values has to be negotiated, sometimes at high stakes, by people who are tied to their individual and limited points of view.
---
Links and Resources:
Buy a copy of The Carriage House.
---