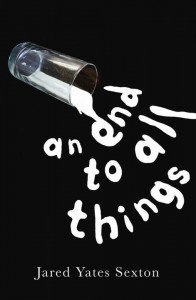 Our newest feature is Jared Yates Sexton's debut story collection An End to All Things, which was published by Atticus Books. Sexton received his MFA in fiction from Southern Illinois University, where he worked with writers Beth Lordan, Pinckney Benedict, Jacinda Townsend, Allison Joseph, and Rodney Jones. In the spring of 2012, he joined the creative writing faculty at Georgia Southern University. His stories and articles have appeared in numerous publications. He's been nominated for two Pushcarts, the Million Writer's Award, Best of the Web, and was a finalist for the New American Fiction Prize. He is also the managing editor of BULL: Men's Fiction.
In his recent interview with the author, contributor Nick Ostdick talks with Sexton about his interest in writing about blue-collar Midwesterners, with an emphasis on the voices of "Recession America." In response to a question on this subject, Sexton replies, saying:
I feel I can't help but write about work and class and identity. It seems a cliché to think about working class families in the Midwest, or other manufacturing areas, gathering around a meal and laying out their woes or opinions about economy or oppression, but that was the reality of my childhood. I'm the son of factory workers, of poor, working-class parents. The people I associated with, or who I saw as role models, were usually foul-mouthed Midwesterners who boozed and caroused. That heritage, for me, is no different than having a certain color hair. Most of my fiction is either a retelling or restructuring of things from my life. My experiences, my loved ones, my enemies, my opinions find their way into my prose whether I make a concerted effort to include them or not.
We're happy to announce that we'll be giving away a copy of An End to All Things to three of our Twitter followers. To be eligible for this giveaway (and all future ones), simply click over to Twitter and "follow" us (@fictionwriters).
To all of you who are already fans, thank you!
---
Further Links and Resources: