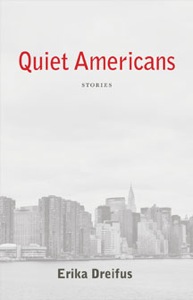 Each week we give away several free copies of a featured novel or story collection as part of our Book-of-the-Week program. Last week we featured Jacob Paul's Sarah/Sara, and we're pleased to announce the winners: Eileen Pollack, Emma Kate Tsai, and Ana Maria Velasco. Congratulations! Each will receive a signed copy of this new novel.
This week we're featuring Erika Dreifus's story collection Quiet Americans. Erika, a Contributing Editor at Fiction Writers Review, wrote a lovely review of last week's Book of The Week, Sarah/Sara for the site last year, which you can find here. Her other reviews for FWR include Book of Clouds by Chloe Aridjis and Forgetting English by Midge Raymond. Erika has taught history, literature, and writing at Harvard University, and currently works for The City University of New York.
Quiet Americans, Erika's debut collection, is largely inspired by the histories and experiences of her paternal grandparents, German Jews who escaped Nazi persecution and immigrated to the United States in the late 1930s. Here is a brief description of the collection:
A high-ranking Nazi's wife and a Jewish doctor in prewar Berlin. A Jewish immigrant soldier and the German POWs he is assigned to supervise. A refugee returning to Europe for the first time just as terrorists massacre Israeli athletes at the 1972 Munich Olympics. A son of survivors and the family secrets modern technology may reveal. These are some of the characters and conflicts that emerge in Quiet Americans, in stories that reframe familiar questions about what is right and wrong, remembered and repressed, resolved and unending. Portions of the proceeds from sales of Quiet Americans will be donated to The Blue Card, which supports survivors of Nazi persecution and their families in the United States.
Andrew Furman, author of Contemporary Jewish American Writers and the Multicultural Dilemma, had this to say about the new book:
In searing, pitch-perfect prose, Erika Dreifus evokes in Quiet Americans the heart-wrenching intersections between domesticity and war. Drenched in the blood-soaked history of the Holocaust-—yet attentive to those quietest moments between husbands and wives, brothers and sisters, parents and children—these stories gather unexpected force sentence by sentence, page by page. On several occasions during my reading, I needed to remind myself to breathe.
Please visit Erika's website, erikadreifus.com, for more about Quiet Americans, her wonderful blog, and her reviews, poetry, fiction and essays. Erika Dreifus is also in the midst of a blog tour, click here for the full list of stops, past, present, and future.
**If you're in D.C. for AWP, do stop by the FWR table – B18 – on Friday at 2 pm, where you can meet the author, and have Erika Dreifus sign your copy of Quiet Americans.**
If you'd like to be eligible for this week's drawing (and all future ones), please visit our Facebook Page and "like" us. As we did last week, we'll be giving away three signed copies of this title. To everyone who's already a fan, thanks again! What we want to do is not only find ways to expand our readership, but also to put books we love in the hands of readers.
So please help us spread the word!