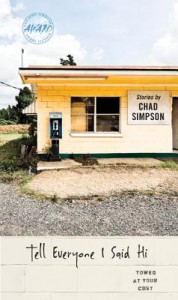 Our current feature is Chad Simpson's debut collection, Tell Everyone I Said Hi, which was the winner of the 2012 John Simmons Short Fiction Award from The University of Iowa Press. Chad was raised in Monmouth, Illinois, and Logansport, Indiana. His stories and essays have appeared in McSweeney's, The Sun, Esquire, Barrelhouse, American Short Fiction, and many other print and online publications. He also is the author of a chapbook of short fiction, Phantoms, published by Origami Zoo Press in 2010. A recipient of an Illinois Arts Council fellowship in prose, he teaches at Knox College in Galesburg, Illinois, where he received the Philip Green Wright/Lombard College Prize for Distinguished Teaching in 2010. He lives in Monmouth, Illinois, with his wife, Jane.
In Eugene Cross's recent interview with Simpson, he writes in the introduction to their conversation:
One of the aspects I admire most about Chad's stories is their unassuming beauty. Like the quiet girl at the end of the bar who looks up from her drink and brushes the hair from her face, only to reveal something so lovely and incredibly true you didn't even know it could exist. This is the feeling I get while reading Tell Everyone I Said Hi. Chad's stories amaze me. They do now and they did when I first had the privilege of reading them, half a decade ago in a shared workshop somewhere in the mountains of Tennessee.
We're giving away a copy of Tell Everyone I Said Hi to three of our Twitter followers. To be eligible for this giveaway (and all future ones), simply click over to Twitter and "follow" us (@fictionwriters).
To all of you who are already fans, thank you!
---
Further Reading