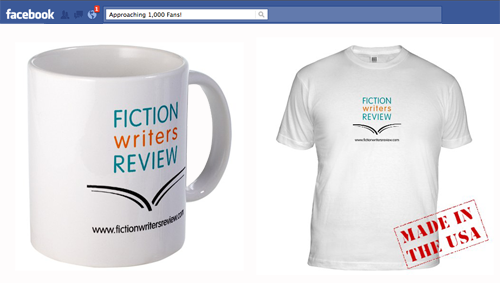 At the end of August, Fiction Writers Review launched a Fan Page on Facebook. The goal was threefold: to introduce new readers to FWR, to create an informal place for conversations about writing, and to give away lots of free books. And though we'd always hoped this project would also help bring together a thriving literary community, we had no idea it would happen so quickly! After just two months, our Facebook community has grown to over 950 friends and we fast approach 1,000.
Still, the best surprise has been in the wonderful range of individuals who have joined us online: not just readers and lovers of writing, but also publishing, university, and bookselling communities, as well as followers from abroad.
As a small token of our appreciation, one lucky Facebook Fan will receive an FWR T-shirt of their choosing and a coffee mug from our Café Press Store on the day that our community reaches 1,000 individuals.
Like our Book of the Week giveaway, the only thing you need to do to be eligible for this drawing is to be a fan of our Facebook page. No catch, no gimmicks. And once you're a Fan, you'll be eligible for all future Book of the Week drawings, including Tuesday's giveaway of Elizabeth Kostova's The Swan Thieves.
To everyone who's a Fan, please accept our sincere thanks for your support. We've been thrilled with the response to our book giveaways, and it's our hope to continue developing new and interesting features for our Facebook community. Look for an exclusive stream of content this fall, as well as opportunities where we'll connect Fans directly with the authors they love. We feel this is a great way to expand our organization, to further publicize books and authors we love, as well as a great way to bring fellow readers and writers together.
Best of luck for the commemorative drawing! And thank you, again, for your support as we approach the 1,000 Fan milestone.