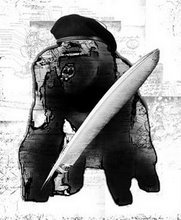 I'll be on a plane to San Francisco, but if you'll be in NYC tonight, head to BAR on A – 170 Avenue A @ 11th – at 7:30 PM to see FWR contributor and fictiontastic writer Lee Goldberg read with Meakin Armstrong and Deenah Vollmeras part of the Guerrilla Lit Reading Series. From anywhere, you can follow Guerrilla Lit on Twitter: http://twitter.com/guerrillalit.
About the Writers*
Lee Goldberg teaches Literature and Composition at LaGuardia Community College. He has an MFA from New School University and is a founding member of the Guerrilla Lit Reading Series. He is currently working on a novel and a collection of short stories and has just finished his first screenplay.
Meakin Armstrong is fiction editor at Guernica: A Magazine of Art and Politics. For 2007, he received a Bread Loaf Writers' Conference work-study "waitership." Meakin is also a contributor to the book New York Calling: From Blackout to Bloomberg (Dist U of Chicago Press). Most recently, his work appeared in Our Stories Literary Journal, InDigest, Sweeeeet, and Mr. Beller's Neighborhood. His work is forthcoming in NOÕ Journal and an upcoming book on movies. For eight years, he worked at the New Yorker.
Originally from Los Angeles, Deenah Vollmer is a non-fiction candidate in Columbia's MFA program. She lives in Brooklyn.
* = bios stolen from the Guerrilla Lit website