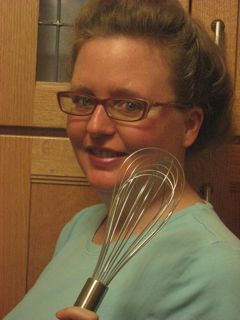 According to Harvard anthropologist Richard Wrangham, cooking is one of the things that makes us human. I would argue another important thing on that list is storytelling. Perhaps this is why good stories so often involve food.
Today is the debut of Novel Dishes, a new occasional series on Fiction Writers Review. Novel Dishes delves into the confluence of these two aspects of our humanity, exploring fiction where food is an important theme, supporting the plot and driving it forward. Each piece will include at least one recipe based on food described in the story. (If you have any suggestions of books for future Novel Dishes columns please feel free to leave them in the comments.)
"All my pleasures are homey ones: armchair splendor, the sedate excitements of domesticity. All I ask for are humble delights … cream dispersing into coffee … the symmetry of grocery bags sitting on the kitchen counter waiting to be unpacked … These are the things that can pierce me with longing when I am displaced from them by Time's whim."
The first novel we'll cook from is Audrey Niffenegger's unlikely love story The Time Traveler's Wife (MacAdam/Cage, 2003). Henry DeTamble's unusual genetic mutation makes him prize the simple domestic pleasures of cooking and eating with friends and family; at any moment he could be whisked away into a possibly deadly situation. To some, standing in the kitchen and endlessly stirring risotto might seem boring, for Henry, it is heaven. Throughout the novel plot points are anchored with important meals which Niffenegger describes in some detail. Over the next few installments of Novel Dishes, we'll recreate them.
Many enjoyable social gatherings begin with a cocktail, so for this first post, I thought it appropriate to include one from The Time Traveler's Wife.
Setting the Table
It is Friday, June 5, 1987 (Clare is 16 and Henry, 32). Clare celebrates getting her driver's license by driving Henry to her friend Ruth's party. They decide that it is best for him to wait in her car since at this point their age difference might alarm her friends and family. Clare and her girlfriends spend time watching cute boys diving into the pool. Helen notices that Clare is "cross-eyed with lust" and gets her to admit that it is not for any of the boys at the party. Helen is suspicious that Clare has a secret boyfriend, and makes up a story about some Champagne and pear juice intended for Bellini cocktails that she left in her car. Finding Henry in Clare's car, she addresses him as "Hi, Clare's boyfriend." Henry artfully lies: he's a friend of Clare's parents, who were worried about her driving after drinking at the party. We never anything more about those mythical pear Bellinis…
Helen's (Fictional) Pear Bellini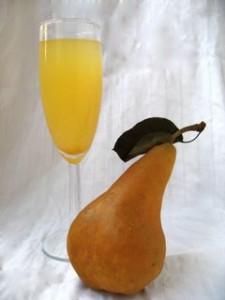 Serves 2
[Ingredients]
3 oz. Pear brandy*
3 oz. Pear nectar**
1 bottle dry Champagne
2 Champagne flutes
[Method]
Add the pear brandy and the pear nectar to a cocktail shaker filled with ice. Shake vigorously until blended. Strain, dividing the brandy/nectar blend between two Champagne flutes. Top up with chilled Champagne.
[Notes]
*Pear brandy is a specialty of the Alsace region of France where it is called Poire William (The Bartlet pear is called the Williams pear in Europe.) and is available in most good wine stores. Clear Creek Distillery in Oregon also makes a fine Williams pear brandy in the Alsatian style.
**Pear nectar is available in supermarkets in bottles or boxes. You can also make your own: Wash and core some very ripe pears, cut into small chunks, put them in a saucepan and add 1 teaspoon of lemon juice per pear. Cook them over medium heat, sirring occasionally, until they resemble chunky applesauce (about 15 minutes, longer if your pears were less ripe). Strain the mixture through a fine mesh strainer, pressing with a spoon to extract all of the nectar. Cover nectar and store in the refrigerator or freezer.
Next on Novel Dishes
Check back next Friday for the second literary menu from The Time Traveler's Wife: Dinner with Friends: Featuring Clare and Charisse's Rescued Risotto.
Kathryn McGowan is a Brooklyn-based food journalist and fiction lover. Her writing can be found at The Thrifty Gourmet and her own blog, Comestibles. She has studied food writing with Alan Richman at the International Culinary Center in New York City, and is a member of the Culinary Historians of New York. For her full bio, visit FWR's Contributors page.