I came across Roxane Gay's 2012 interview with Julianna Baggott in The Rumpus in the fall of 2013. In it, Baggott described her use of not one but two pseudonyms as an author (Bridget Asher and N.E. Bode), and I was curious by the apparent ease with which she shifted genres and readerships. I had just finished her apocalyptic bestseller Pure (Grand Central Publishing, 2012), which was a New York Times Notable Book of the Year and an ALA Alex Award-winner, and was excited to move onto the next two books in the trilogy: Fuse (2013) and Burn (2014).
In the fall of 2012, I had interviewed Russell Banks on Jeff Davis's radio show, Word Play, while Banks was in Asheville as a Visiting Writer for Warren Wilson College's Harwood-Cole Lecture Series. That long-form conversation was later published here on Fiction Writers Review as a two-part interview. I'd always enjoyed reading the long interview, and after doing one with Banks, I was curious what it would be like working with an author whose work was relatively new to me.
As with the Banks interview, I wanted to approach Baggott's work and her ideas through the lens of working on my own novel: I wanted to ask her questions I was asking myself or wanted the answers to. And I needed a reading project to kick-start the next stage of revision on my book. However, unlike Banks, who I knew personally and had been reading since I was a teen, and whose few books I hadn't read I could cover fairly quickly, I'd not read any of Baggott's novels (let alone Asher's or Bode's!) with the exception of Pure and Which Brings Me to You (Algonquin Books, 2006), a novel she'd co-authored with Steve Almond. Needless to say, with more than twenty books to Baggott's credit under one name or another, I had my work cut out for me.
I first wrote Julianna in early December of 2014. I asked her if she would be interested in talking about the span of her writing career (so far) as well as the ways in which she writes across different genres. Julianna wrote back that day with an enthusiastic "Let's do it!" We jumped into the interview almost immediately. She sent me a box of her books, and I ordered a bunch more. Except for one phone call relatively early in the process, our conversation played out entirely through email. When the interview wound down in late April of this year, I was shocked to see we'd produced over 20,000 words (about seventy pages). It then took about a week for us to boil that down to 15,000 words, which represents a total of about fifty pages. And FWR has generously agreed to host this conversation, which itself will be published in five parts during this week.
In terms of her biography, Julianna Baggott began publishing short stories when she was twenty-two and sold her first novel while still in her twenties. After receiving her M.F.A. from the University of North Carolina at Greensboro, she published her first novel, Girl Talk (Pocket Books, 2001), which was a national bestseller and was quickly followed by The Boston Globe bestseller The Miss America Family (Atria, 2002), and then The Boston Herald Book Club selection, The Madam (Atria, 2003), an historical novel based on the life of her grandmother. Her most recent Julianna Baggott novel is Harriet Wolf's Seventh Book of Wonders, which came out in August from Little, Brown and Company.
The Bridget Asher novels, published by Bantam, include My Husband's Sweethearts (2008), The Pretend Wife (2009), and The Provence Cure for the Brokenhearted (2011), as well as All of Us and Everything, which will be released in November.
In addition to the titles mentioned here and those such as the Pure trilogy noted earlier, she has written numerous books for young adult readers under N.E. Bode. Please visit her website for a complete list of titles and more information: http://juliannabaggott.com/
Finally, Baggott also has an acclaimed career as a poet, having published three collections of poetry: This Country of Mothers (2001) and Lizzie Borden in Love (2008), both of which were published by Southern Illinois University Press, as well as Compulsions of Silkworms and Bees (2007), released by LSU Press.
Interview:
Sebastian Matthews: Throughout your career you have taken on pseudonyms. You must feel a certain freedom in writing under cover. I'm curious, does the assumed author become a sort of narrator/character, another mask for you to wear?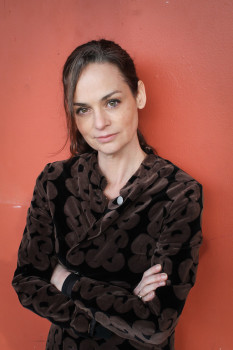 Julianna Baggott: One bit of writing advice I often give is to imagine whispering your story into one person's ear, urgently. If your audience is just one person, every word choice becomes clearer; and if the story doesn't need urgency, it's probably not the most important story you have to tell.
This is about defining audience, but it doesn't go so far as to talk about defining yourself. It's much harder to write as Julianna Baggott; I expect a lot from her. For example, I think she should be able to reach a lot of people with her one voice, not just one ear. But N.E. Bode—in creating him as a person—was really creating a character. And, oddly, Julianna Baggott at age eleven or so was the audience—the ear—for those books. As Baggott, I'd published three novels for adults just before I created N.E. Bode, and I felt the weight of that work—its seriousness—then Bode bounded forth and offered great freedom. Also, writing for children returned me to my roots in magical realism. It was a gift.
Bridget Asher's first three novels were certainly more specifically stories I wanted to tell to women my own age. Asher allowed me to strip away the pressure I felt to be literary, and I really rode closer to story. The fourth Asher novel, All of Us and Everything (Bantam), which comes out this November, has been a huge joy. My editor really released me to be as literary as I wanted, and yet my Asher-disposition freed me to be a little wilder in concept. The result is a book I love in a very different way than other books of mine. It's actually quite literary, page to page, and in much of its comedy, but it's also wild in a way that I don't think I, Julianna Baggott, would be allowed to get away with.
I admire how you give yourself room to speak in more than one authorial voice…
All of these notions about getting away with something are fabrications that reside in my own head alone. Of course no one is really hawking the career of Julianna Baggott. What I'm saying is that pen names started within me and the permission they gave me was personal. I needed them so I created them, but I didn't even understand how crucial they would be to the expanse of territories they would open up for me as a writer. Of course, I'm also aware that Asher and Bode are, in fact, me. They aren't fabrications. They're authentic self-expressions.
On a panel, a fellow writer was talking about seeing her name on a book for the first time—the thrill of that. Oddly, I couldn't really relate. I was excited about my first novel, but not in that way. It certainly doesn't motivate me. I do like having the pen names as open secrets so people can see what I've done, but the idea of my own name on a cover doesn't stoke my heart. Publishing has been very socially awkward in the simplest ways and makes me feel so deeply vulnerable in very complex ways—this is what so many people don't really talk about. My anxiety of authorship isn't easy for me to put in a box.
In other words, I can't imagine giving up writing, but Salingering this career—if sudden royalties poured in—is attractive to me. Odd for an extrovert, but true.
The first pen name began as a practical matter. I'd written three literary novels in three years and was competing with myself for review space. My agent suggested writing thrillers under a pen name. I was rereading the classics I loved to my kids and opted for that route instead. Asher, too, came along after touring with my fourth novel—co-written with Steve Almond. And Almond's brand is so clearly his own. My writing seemed so very buckshot in comparison. This coupled with the idea that I wanted to rebuild from my first novel in some ways, in terms of audience—but then not lose that audience by publishing a novel set in an asylum at the turn of the century—seemed, again, practical.
And, for a long time, these were the answers I gave on tour. I was struggling with all of the other issues of course and one day while cleaning up, I found a little note I'd written myself that was pre-Bode, in which I knew, on some level, that I was trying to find other ways to insulate myself and protect myself creatively.
In The Rumpus interview you are quoted as saying:
Genres are just bottles for the various boats. The boats matter to me. New ways of storytelling are coming at us. I was born in the era of the novel. I've written many, as well as collections of poetry, and essays for mouthing off. I've written to inches, word-counts, page-counts, even the sonnet and the screenplay (which I call a plot poem). I write narrative. That's it. I just want to tell it.
Can you expound on this idea?
I talk about bottles and boats a lot when I teach. Generally, I say that the bottle—in a fiction workshop—is the structure (like the time-frame or the road trip, the means of establishing beginning, middle, end) but it's see-through because it's really a container for the boat. Bottles can be found anywhere. The boat that you intricately design and make your own is what matters. So, I'm surprised to read this—my using the terms for genre; I stand by it, though.
This might have been in response to a question about the publishing industry, and I might have very well been saying that people want to tell stories and hear stories and share their humanity by way of stories. No matter the trends or even the means by which story is told—even with not-yet-invented technologies—storytelling will endure.
In your latest novel, Harriet Wolf's Seventh Book of Wonders (Little, Brown and Company), you talk a good bit about storytelling, and about writing. For instance, Harriet Wolf writes, "The truth that all writers secretly harbor is that all books are failures. We try to do something that can't be done." And then: "This is the writer's first job: to list what's worth listing." How much of a correlation is there between your philosophy of writing and Harriet Wolf's? I am thinking of when she talks about drawing from one's life but not writing directly about it…
I like Mednick's definition of creativity—associative memory that works exceptionally well. I read that on a plane and shut the book and stared straight ahead. Yes, for me, yes. That's it.
That said, I really am not at all an autobiographical novelist. I don't write about people I know and my own life in any real, discernible way—aside from when I'm working in essay, of course. My husband, Dave, says something funny in the morning and it can become a heartbreaking line said by an old woman on her deathbed—that afternoon. I'm not interested in my own life in that way. I use what I have—and I only have my own human experience—and imagine very far afield.
When I first suggested that we do an interview that would cover your entire body of work—or the span of your career so far—you seemed game. In fact, in your response to my invitation, you admitted to being curious to how the books "existed" in your brain. You wrote, "The architectures exist like underground cities that have to be pulled up from the earth, spires-first, for me to recall them." I love that image. Can you say more?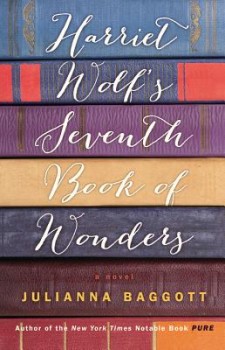 Part of my process in writing a first draft as quickly and wholly as I can—though not all of my first drafts are quick or whole or even close to what they end up being by final draft—is because this act of lowering the city and raising it up has gotten harder and harder. And, to be honest, when someone asks me about one of my early novels, only parts of the city muscle up to the surface. I hold the crumbling city of what once was there in fine detail. But for drafting, I'm completely confused by writers who write and then let it sink and then pull it up, over and over again. I much prefer to write as much as I can and then at least I have the scaffolding up and frames of the buildings and buttresses. I had an editor who wanted to send me edits in pieces. He'd send the notes as he went through the novel over the course of a few weeks. This didn't work for me at all. I also find that sometimes I really bury the city purposefully and I don't let it come up in my mind—I resist it—when I know that I really won't have enough of a stretch to work on it, like if I'm in edits on a dueling project. So the burying is also a necessity, a survival skill. (And when I say stretch to work, I don't mean a colony or uninterrupted time. My life is still fairly fractured and my process one of lots of small daily interruptions and work.)
How things have changed, if at all, with the author/reader relationship? You joked that, "Now I envy hermits."
Nothing in the publishing industry—from the published novelist's perspective—has changed more than the author/reader relationship, to my mind. It used to be that if someone wanted to chew me out for a typo or wanted to tell me I was going to hell for an op-ed I'd written, well, they had to either run into me in my hometown or at a party or they had to write and mail a letter to my publisher. Those days are long gone. The comment box is our dark id and the most vicious and disturbing things anyone has ever said about my work or me personally have been said there—or messaged to me on Facebook.
I recently was at a reading of Steve Almond; for his latest book, Against Football, and his previous work, he's received a lot of hate mail and even death threats. I asked him how he handled those threats, in particular in an age where someone can have a Google map to your house in seconds. He said that he felt he was just an occasion for their rage and that they would quickly move on; he pointed to his privilege of living in a very safe part of a very safe nation with its freedom of speech in place. I think there was a time when I could have been more accepting of his answer; I've been shaken, however, and maybe additionally, as a woman, I've been taught to not only treat a threat as real, but to be on watch for non-threats as well; rage is everywhere and often in disguise. The trust between the world and that feeling of safety for me and my family has been lost. And I live a much more private and quiet life. I write far fewer essays. I put far less personal information about myself out there than I used to. Even before this breach, however, there were essays I would have published in the pre-comment-box era that I simply wouldn't in the current era. I wrote an essay just two weeks ago that I'll likely never publish.
It's a very strange thing for me to learn at this point in my career, that my fear has necessitated insulation and that I need that insulation in order to be raw in my fiction; that the most important stories of my life aren't actually always mine to tell; that there are very powerful ways to be an activist without being a public activist; that language cannot fix all things; that the essay doesn't work for me as it once did; that poetry allows me to press my face up to the gauzy veil and away again, as I need it to; and that fiction remains a great salvation.
It feels like maybe you found a way to explore this idea in Harriet Wolf, whose hero hides from her readers and the scholars who show up on her doorstep. Am I off about this?
You're not off. This is, I suppose, a bit of wish fulfillment for me. I wouldn't become a hermit, however. But I'm fascinated by the act of self-preservation, as well as the desire to protect your relationship with the page, to eliminate that interference. (I'm watching the phenomenon of Harper Lee's "found manuscript" with astonishment. It overlaps in many ways with the story of Harriet Wolf but, of course, I was long-finished with my novel when this surprising twist in Lee's life came about.)
The way Harriet Wolf's books are each a different genre—the apocalyptic novel Brutal Angels, the realist novel Klept of My Heart, etc.—reminds me a little of your own career. Are you playing around here, getting a little meta?
As soon as I'd heard that Stephen King had written an essay on J.K. Rowling—pinpointing when, in the Harry Potter books, she started writing for an adult audience and really situating her among the great writers of her time—it struck me that it would be brilliant to write a seven-book, career-spanning series that not only shifted audience but also shifted in genre, writing the genre of novel best suited to each audience. At the time, I was aware that Pure (Grand Central, 2012), being a post-apocalyptic novel, was really a metaphor for the teen years, the apocalyptic rupture from childhood being puberty. The poet, Camille Guthrie, mentioned to me that Genesis is an apocalyptic story, Adam and Eve being cast out of the garden of Eden, and that comment completely changed my understanding of post-apocalyptic work and how so many narratives are about this rupture, this casting out, this apocalypse of some sort. All of this said, the idea hit me and I thought that someone should do it, and then I decided that someone already had: Harriet Wolf.
---
Editor's Note: To read Part II of Sebastian Matthews's interview with Julianna Baggott, which focuses on writing The Pure Trilogy, research, and revision, please click here.