Editor's note: As part of our ongoing Short Story Month Celebration, we are delighted to present the following guest post by Stacie M. Williams of Boswell Book Company.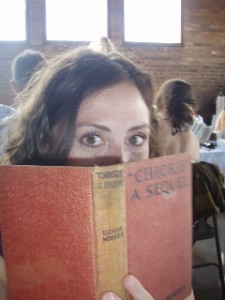 A fellow bookseller, when inclined to discuss my fiction reading habits, described my taste simply and accurately as "dark and twisty." This, fortunately or unfortunately, is all too true, and when you are a reader of things that are dark in nature, violent in content, lustfully raw, and stormy in mood, it's sometimes best to take it in small, brief doses. This post honors that taste, with a nod to new favorite storyist Alan Heathcock's recent NPR piece, "Three Books to Take to a Fistfight."
You see, the reading experience of a well-written story can be as quick and powerful as a fine-tuned boxing match: punching in sharp, quick jabs, leaving the reader crawling on the ring floor by the end of it. Some writers are so adept at this that it only takes a few pages (thank you, Donald Barthelme and "Some of us Had Been Threatening Our Friend Colby"). Many others take their time—bobbing and weaving, faking left then right—before landing one uppercut-cross-hook combination for a TKO (William Gay, you sly old bastard with your "Paperhanger," not to mention Brad Watson's "Water Dog God"). And still others combine fancy footwork with lots of pulling away, no contact necessary for forty pages, until one bolo punch surprises the reader, who is now plastered back against the ropes, panting, and it's a blackout (beautifully demonstrated in "Adult Beginner I" by Alexander MacLeod).
And it's not just the guys who will take you down in a fight, using the story as a means to pummel you into readerly submission. The ladies have their fair share of representation in this world of hope in the face of hopelessness, extreme reaction in the face of grief, and struggle with baser animal instincts—and they throw in some high kicks with their boxing skills. Alyson Hagy repeatedly lands arrow-straight shots to the sternum that will knock the wind out of you ("Border"). Lydia Peelle's exquisitely executed roundhouse ("Mule Killers") mirroring the continuous cycles of change will leave you dizzy. And for pre-fight training, no reader can go without the jump-rope wordplay, complicated emotional pyramids, and intense structured workouts led by Edith Pearlman, who will leave you puking from exhaustion and weeping with relief.
Story Collections to Make You Feel Like You Just Lost a Boxing Match:
The View from the Seventh Layer by Kevin Brockmeier
Poachers by Tom Franklin
I Hate to See That Evening Sun Go Down by William Gay
Ghosts of Wyoming by Alyson Hagy
Volt by Alan Heathcock
Light Lifting by Alexander MacLeod
Binocular Vision by Edith Pearlman
Reasons for and Advantages of Breathing by Lydia Peelle
Burning Bright by Ron Rash
Stacie Michelle Williams has been a bookseller for 6 years – four with the legendary Harry W. Schwartz Bookshops and two with the new incarnation, Boswell Book Company—and author events host/coordinator for five. A lifelong reader and writer, several of her travel pieces were published as part of the Traveler's Tales collection Floating Through France, her interview with writer Kevin Brockmeier appeared in cream city review, and she is currently serving a six-month stint as the "Pfister Narrator," blogging for Milwaukee's historic Pfister Hotel. When Stacie isn't immersed in the world of books and writing, she can be found walking her Siberian Husky, Vito, along Milwaukee's lakefront.
Further Reading (right here on FWR!):