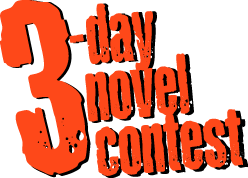 Last week we told you about Dzanc's Write-a-Thon, which runs September 2-5 and helps raise money for Dzanc's Writer-in-Residence Program and the Dzanc Prize. If that got your creative juices flowing, here's another write-a-thon-type opportunity: the International 3-Day Novel Contest.
Yes, you read that right: the goal of the contest is to write a novel in just 3 days. (Nanowrimo ? Ha! We laugh at your extra 27 days!)
At The Millions, Sean Di Lizio explains:
The 3-Day Novel Contest is held annually in early September on the Canadian Labor Day long weekend. In 1977, a writer's group in Vancouver accepted the challenge for the first time.

The contest has been running ever since. According to the organizers, the 3-Day Novel Contest has been called a "fad," an "idle threat," a "great way to overcome writers block," and "a trial by deadline." It opposes the notion that novels take eight years of angst to produce. Most entrants recognize that winning is secondary to finishing with a complete novella and no nervous breakdown.
Novels of any length and genre are allowed—and the winner, selected by a panel of judges, will be published by the imprint 3-Day Books. Official rules and registration info, as well as frequently asked questions, can be found on the contest's website. But don't delay if you want to participate: the 2010 contest runs September 4-6, and entries are due by September 10.
(It's a 3-day novel—you didn't need planning time, right?)